News & Events
Goodwill of Greater Washington Launched the Finding Your Good Podcast
Posted: 10-18-2019
Goodwill of Greater Washington Launched the Finding Your Good Podcast
Read More
Summer Style Exchange
Posted: 08-07-2019
EVENT: Shop curated racks at Goodwill prices from DC's Slow Fashion Leaders
Read More
Join Optoro and Goodwill for A Fun Day of Live Music, Food Trucks and Swapping!
Posted: 07-26-2019
EVENT: Summer Swap Shop will bring together people from the DC community to trade clothing, shoes, and accessories. All are welcome. . .
Read More
Goodwill of Greater Washington Joins Broad Effort to Observe National Disability Employment Awareness Month
Posted: 10-16-2018
Every year, during the month of October, Goodwill of Greater Washington joins hundreds of organizations across the United States in recognizing
Read More
Grandmother, Grandson Earn High School Diplomas Together
Posted: 07-27-2018
Two generations turned the tassel when grandmother Sandra Brooks-Burr graduated from high school with her grandson Delon'Ta Brooks in D.C. News4's Aim
Read More
Goodwill is Good Business: Employers Hire Our Graduates
Posted: 06-29-2018
We are honored to be among the most respected non-profits in our region and we are grateful for the businesses that have chosen to Invest in
Read More
Now You Know: The Donation Process
Posted: 06-28-2018
Goodwill has one of the most widely recognized brands in the world. Millions of people donate and shop with us every day. However, many of those
Read More
Goodwill Celebrates Goodwill Industries Week
Posted: 05-01-2018
Goodwill of Greater Washington (Goodwill) is celebrating Goodwill Industries Week (May 6 -12) by launching a series of mission videos featuring
Read More
---
---
---
GoodNews Delivered to Your Inbox
Become a member of Goodwill's Good Neighbor Club by filling out the form below.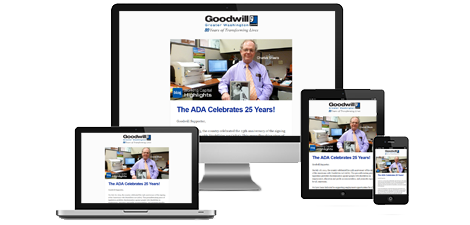 Be the first to learn about Goodwill donation drives and other events in your community.