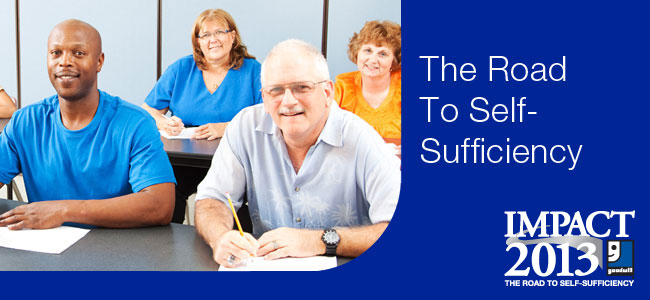 In 2013, there were hundreds, even thousands, of people in our region who were in need of Goodwill's free career services. These are people trying to break the cycle of poverty. People who might have a lifelong disability. People who may have made some bad choices earlier in life and need a fresh start.
We kicked off IMPACT 2013: The Road to Self-Sufficiency with you and our other partners – individuals, businesses, and foundations – to help us serve as many people as we can.
The journey toward self-reliance is not always clean and simple for the folks who come to Goodwill. We understand this road. We know how difficult it can be.
But there is no quick and easy solution. They need a team like you and Goodwill to stand with them as they journey toward lasting self-sufficiency.
Your gifts provided free education and job training services in a variety of industries so people could be qualified for good jobs. And it helped place people into jobs with a smooth transition and a positive, long-term outcome.
---
IMPACT 2013 Goals
198
The number of people Goodwill placed into jobs in the local economy in 2013.
We had set a number of goals for our work so that 2013 could be the year many of our most vulnerable neighbors find hope and dignity through work. Here are just a few of those goals that, with your help, we expected to meet:
X

Place 220 people into NEW jobs right here in our community.

✓

Create approximately 30 additional jobs through the opening of at least one new retail store.

✓

Further solidify our RISE Coaching program that helps Goodwill associates overcome barriers as they strive to gain skills and progress in their careers.
---