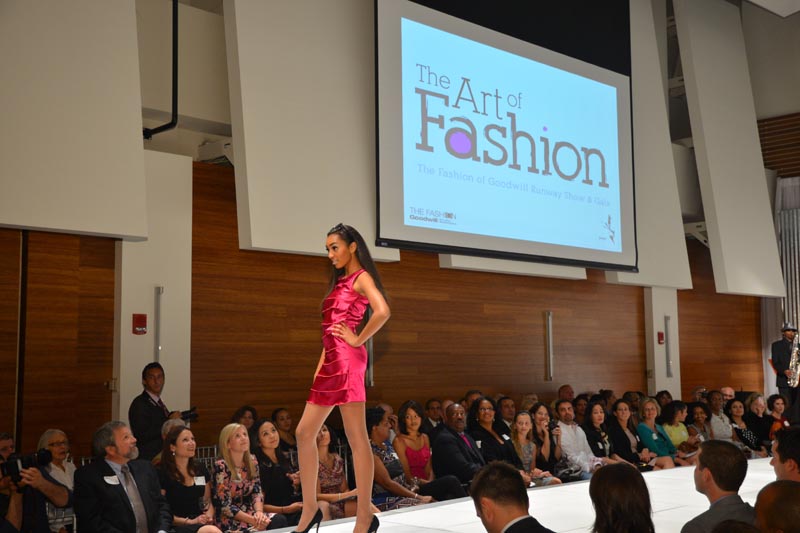 If fashion is indeed art, then nowhere could you find a more diverse collection of fashionable art than at Goodwill of Greater Washington stores – where styles, genres, colors, patterns, brands, generations, and genders are so universally represented.
That's why on September 24th, 2013 at Artisphere in Rosslyn, the popular Fashion of Goodwill Runway Show and Gala returned with an imaginative theme: The Art of Fashion!
Hundreds of business and community leaders witnessed a kaleidoscope of wearable art, while being the first to view and purchase the unique 2013 collection of contemporary, vintage, and fabulously artistic fashions and apparel available at Goodwill stores.
One of the premier events in our nation's capital, the 2013 Gala raised thousands of dollars to support Goodwill's mission to transform lives and communities through the power of education and employment; providing access to free job training and supportive services for people with disabilities and disadvantages.
In addition to the art on the runway, Goodwill partnered with nearby Elizabeth Seton High School, whose students created their own works of art inspired by the Goodwill mission – with Goodwill students and graduates serving as their personal muses. The art was on display at the event, where guests were invited to learn more about Goodwill by speaking to the young artists about their inspiration. All of the paintings were then put up for auction.
All items featured in the runway show, as well as many other quality Goodwill fashions, were sold at the event.
In conjunction with this unique runway show, Goodwill again partnered with international fashion designer and creative consultant, tu-anh, who directed, styled, coordinated, and choreographed the one-of-a-kind event using vintage and contemporary clothing and accessories pulled directly from the donations made to Goodwill.
---
2013 The Art of Fashion Runway Show & Gala Photos