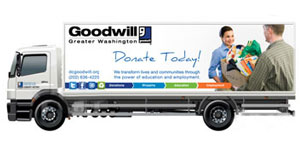 Goodwill's FREE donation pick-up service will come to any location within our Greater Washington service area. If you have many large items or do not have the resources to transport your items to a local Goodwill donation center.
NOW SCHEDULING PICK-UPS FOR NOVEMBER 2014
Request a FREE Donation Pick-up in 3 Easy Steps
Do your items meet Goodwill requirements?

Unacceptable donations will be sorted when items are processed at a Goodwill donation center. All items are recycled or salvaged through our green initiatives to help preserve our environment.
View a full list of donation items we DO NOT accept.
The FREE Donation Pick-up service DOES NOT pick-up corporate business donations or donations from yard sales. For these types of pick-ups please schedule a Priority Donation Pick-up.
If you believe the value of your donation is over $5,000, and if you plan to claim a charitable tax deduction for your donation, you may need to have Goodwill complete certain tax forms to be able to claim a charitable deduction. Before making a donation of that value, please call Goodwill at (202) 636-4225.

Request to Schedule a Donation Pick-up

Completely fill the form below to request a pick-up time (

*

required).
Due to the high volume of requests appointments are scheduled 6 – 8 weeks in advance, and an 8 item minimum requirement is mandatory for this pick-up service.
If you need a pick-up sooner please refer to our paid Priority Donation Pick-up service (This service is not free but does offer additional benefits).

You Will Be Contacted to Schedule Your Pick-up

The Goodwill transportation department will contact you within 5 business days to schedule your home pick-up date and time.
The confirmation email you receive only confirms that you have submitted a pick-up request and NOT confirmation of scheduling a pick-up. Pick-up requests are scheduled in the order that they are received.
Please make sure all donations are transportable and in an accessible area. Our transportation personnel will NOT remove items from attics, basements or carry item up/down stairs.
---
FREE Donation Pick-up Request Form